Fire Protection Technology
Fire Protection Technology
Our associate degree program is a traditional, two year college program that includes general education classes and fire safety instruction. Upon completion, students are awarded an Associate of Applied Science degree in Fire Protection Technology.
The AAS degree does not lead to Basic Firefighter certification; students wishing to become certified firefighters with Texas Commission on Fire Protection (TCFP) should apply for ACC's Fire Academy.
Why earn an A.A.S in Fire Protection Technology?

Increase your income and promotion potential
An AAS degree makes firefighters more competitive for internal promotions.; many fire departments in the State of Texas offer incentive pay or educational stipends to firefighters who pursue an Associate's degree or higher.

Gain a competitive edge in employment
Many fire departments require candidates to have a minimum of 15 hours of college credit just to apply, and some positions in fields such as insurance and fire inspection  require a degree in fire science studies.

Gain higher level certifications
TCFP-certified courses prepare qualified graduates to test for additional certificates — graduates will qualify for TCFP's Master Firefighter certificate once they meet the experience requirements.

Earn college credit toward a Bachelor's degree
ACC has specific articulation (transfer) agreements with several Texas colleges and universities. Credits earned transfer to many four-year degree programs in fields such as fire and emergency services administration, public administration and public safety.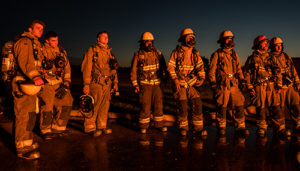 The degree program is open to all, but is tailored to support working firefighters who want to advance their careers. Tuition exemption is available for most currently employed firefighters, and course credit can be awarded to students who already hold certain TCFP certifications. Students who already hold a Basic Firefighter certificate are able to test for TCFP upper-level certifications upon graduation.