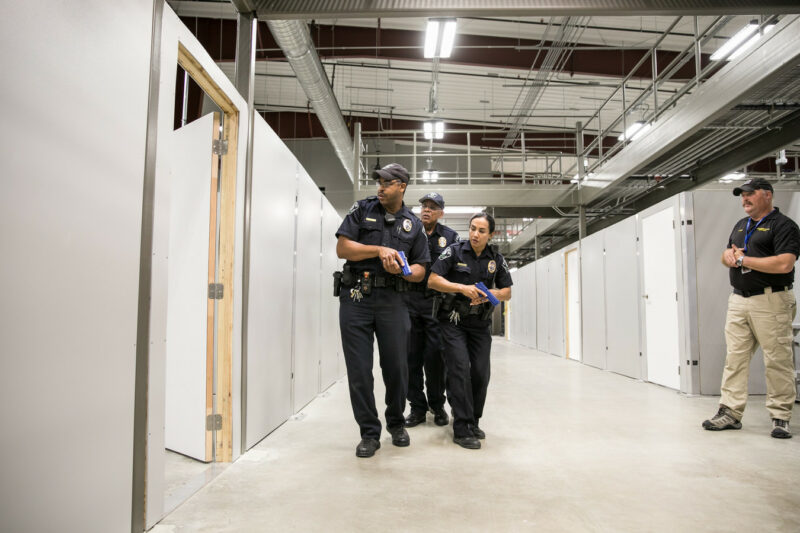 Tuition Exemption for Peace Officers
Tuition Exemption for Peace Officers
Eligible peace officers are exempt from paying tuition for certain classes. Note that the exemption is only for tuition — students are responsible for paying any additional fees by the posted due date.
Who is eligible?
Any student who:
Is currently employed as a peace officer by the state of Texas or a political subdivision in Texas, and
is currently enrolled in one or more courses in one of these degree programs:

AAS in Criminal Justice Law Enforcement
AAS in Criminal Justice Corrections
How to receive the exemption:
Meet the eligibility requirements above
Register for classes
Contact us for details on the tuition exemption form.
Remain in compliance with ACC's financial aid satisfactory academic progress requirements http://www.austincc.edu/students/financial-aid/maintain-your-financial-aid
Submit a new tuition exemption request each semester you register for classes.
The exemption waivers will be awarded on a first-come, first-served basis. ACC will not provide tuition exemption for more than 20% of the maximum enrollment for that class.

What classes are eligible for tuition exemption?
Only courses pertaining to the major requirements of law enforcement-related and criminal justice degree or certificate programs are eligible for the tuition exemption. You may only request tuition exemption for courses that are part of the program map for your degree.
The following Criminal Justice courses are eligible for this tuition exemption:
CJSA 1348 Ethics in Criminal Justice
CRIJ 1301 Introduction to Criminal Justice
CRIJ 1306 Court Systems and Practices
CRIJ 1307 Crime in America
CRIJ 1310 Fundamentals of Criminal Law
CRIJ 1313 Juvenile Justice System
CRIJ 2313 Correctional Systems and Practices
CRIJ 2314 Criminal Investigation
CRIJ 2323 Legal Aspects of Law Enforcement
CRIJ 2328 Police Systems and Practices
CRIJ 2301 Community Resources in Corrections (for AAS Corrections majors)
CJCR 1304 Probation and Parole (for AAS Corrections majors)