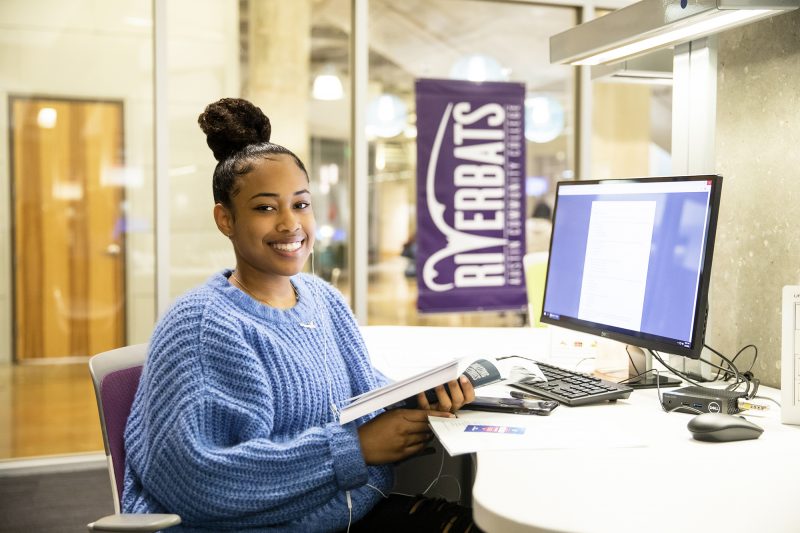 ASL Level Placement Exam & Course Challenge
ASL Level Placement Exam & Course Challenge
The ASL Level Placement Exam at ACC can be used for the course challenge proceedings where you can apply for the exam results to be translated into course credits at ACC.
Who needs to register for the ASL Level Placement Exam?
Students who have acquired ASL skills prior to enrolling at ACC
First-time ACC students that took ASL in high school (to determine if you have sufficient skills to test out of ASL 1-4)
Transfer students: Students that took an ASL course for college/university credit
NOTE: All students must have their ACCeID and ACCmail set up prior to scheduling their ASL Level Placement Exam.
Department Policy for Transfer Students
It is our department's policy to have all students who are transferring ASL credits take our ASL Level Placement Exam as ASL curriculums vary widely across colleges and universities. We have often discovered our curriculum to be significantly more challenging compared to other institutions. We also do this because we want to ensure our students' success and positive experiences in our classes.
What is included in the exam?
There is no specific place to study for this exam. Review your vocabulary, grammar, and knowledge of conversational skills.
The placement exam will last for 20 minutes and will be conducted in American Sign Language only. There will be no vocalizing or speaking opportunity with the faculty evaluator. The goal of this exam is to capture the best sample of a student's American Sign Language skills.
Students will be asked a series of questions in a conversational style to determine course placement. In order to elicit your best ASL skills, it is encouraged that you respond with questions to carry the conversation.
NOTE: This exam might be video recorded for evaluation purposes only.
I registered in a class already, but I haven't taken the ASL Level Placement Exam.
If you register in a class without taking the ASL Placement Exam when you have not met the prerequisite for the class, you will be captured and then removed from the class by the 1st day of the semester.
If you have transfer credits that meet the prerequisite for the class but haven't taken the placement exam, you will be captured and suspended from the class until you have completed the ASL Level Placement Exam.
Where can I take the exam?
The exam is taken virtually. Whereby is the platform that will be used for the exam. Please make your reservation for the exam here.
Exam Schedule
For Fall 2021 registration: July 12-14, 2021
For Spring 2022 registration: October 1 and 8, 2021
For Summer 2022 registration: March 25 and April 1, 2022
For Fall 2022 registration: July 2022 (dates TBD)
I just made my reservation for the exam. What can I expect to happen next?
Once you have made your reservation, you will receive an automatic email from the scheduling platform. However, this doesn't mean that your reservation is 100% confirmed. You are considered confirmed with your reservation when you are sent a follow-up email from Google Calendar with your meeting link and the name of your evaluator.
The confirmation email will be sent to your ACCmail address, not your personal email. This is why it is important that you have your ACCeID and ACCmail address ready when making your reservation. If you make your reservation with your personal email address and/or fail to provide your ACCeID, your reservation will be canceled.
How can I prepare for the exam?
An appropriate and distraction-free attire is required (i.e., no logos, no stripes, no hats, no dangling earrings). TIP: Wear a solid colored shirt that contrasts with your skin tone.
Make sure you have an appropriate and solid colored background for your exam. (NO inappropriate settings such as riding in a train will be accepted and it may disqualify you from the exam.)
You should be in a room with good lighting. The evaluator needs to be able to see you clearly.
You need a healthy wifi signal, which would be in a range between good and excellent. (A blurry picture due to weak wifi can lead to automatic discontinuation of the exam.)
There should be no one else in the room besides you when you are taking the exam to minimize distractions.
NOTE: Refer to the image below for how to position yourself in front of the camera for your exam.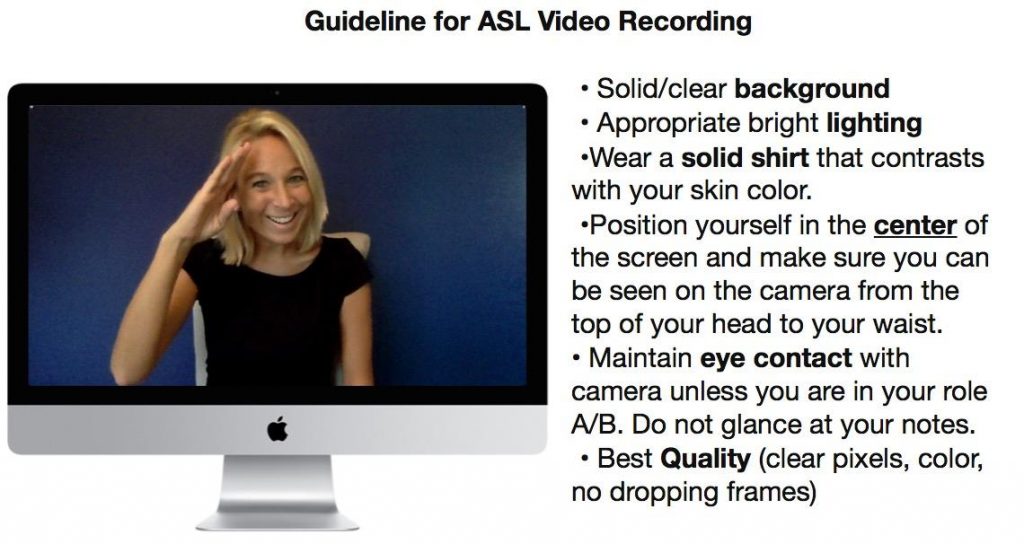 What type of device should I use for the exam?
Best recommended devices: laptop, desktop computer
Other accepted devices: tablet, iPad
Devices NOT accepted: smartphone
Eligibility for Course Challenge
In order to be eligible to initiate the course challenge proceedings, the applicant must be a current or former ACC student. Students must also complete at least one college credit awarding course at ACC before the results from the ASL Level Placement Exam can be recorded on an official transcript through the course challenge process. The student may not challenge a course (after completing the placement exam) more than once. No student may challenge a course for which she/he is currently enrolled or has received a grade, I, W, or AU.
You will need to earn an "A" or a "B" on your exam in order to be awarded college credit for having taken the exam. Credit received by way of the course challenge is reflected as a letter grade on your academic transcript, but it is important to note that this letter grade will not be calculated into your overall ACC GPA. If you plan to transfer to another college or university, you should consult that particular institution for more information about their transcript evaluation policies.
Department Courses Eligible for Course Challenge Credits:
SGNL 1401: American Sign Language I (ASL 1) – 4 credits
SGNL 1402: American Sign Language II (ASL 2) – 4 credits
SGNL 2301: American Sign Language III (ASL 3) – 3 credits
SGNL 2302: American Sign Language IV (ASL 4) – 3 credits
I would like to receive credits through the course challenge process. What exactly do I need to do?
1. Schedule your exam. Follow the tips provided on this page to prepare the best you can for the exam.
2. Take the exam and wait for your results.
3. Upon receiving your exam results and after you have completed one full semester at ACC, whether at the time of your exam or after that, initiate the course challenge proceedings by contacting Administrative Assistant Jillian Gruetzner at jillian.gruetzner@austincc.edu.
4. After the Administrative Assistant has submitted the first part of the course challenge paperwork on your behalf, pay the course challenge fee for the credits you qualify for based on your exam results ($10.00 per credit). Email the receipt number to the Administrative Assistant.
5. The Administrative Assistant will email you to confirm that all the paperwork has been submitted for your course challenge.
6. Once your credits have been posted, the Administrative Assistant will notify you via email. Then you should be able to review the course challenge credits on your transcript.
How much can I expect to pay for the course challenge credits?
The course challenge fee is $10.00 per credit hour.
Refer to the table below for the total amount that will need to be paid for each department course eligible for course challenge credits.
| | | |
| --- | --- | --- |
| Course Abbrev/No | Course Title | Fee |
| SGNL 1401 | ASL I | $40 |
| SGNL 1402 | ASL II | $40 |
| SGNL 2301 | ASL III | $30 |
| SGNL 2302 | ASL IV | $30 |
Additional Rules & Expectations:
Exam results will be sent via email within 1 business day after the exam date.
You may take the placement exam for credit only once.
If you take an ASLIT course at ACC and do not earn the grade desired, you cannot take a placement test to enroll in the next level of ASL.